English translation of this page will be available soon.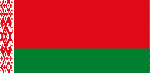 VashaFirma.by, VasheImya.by
Описание:
Использование домена .BY также рекомендуется для сайтов относящихся к Беларуси или содержащих подобную информацию, для компаний и частных лиц которые находятся в Беларуси, выходят на ее рынок и, естественно, всем кому подходит данная доменная зона.
Стоимость:
Срок регистрации:
фиксированный – 1 год, с последующим продлением.